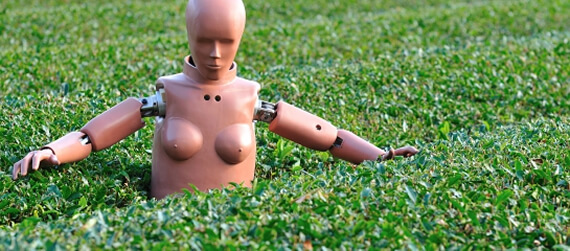 Nowadays, it is reported that number of fatalities caused by the traffic accidents are more than 1.2 million in the world.
Even we try not to encounter the traffic accident, such risks are surrounding us in every corner of the world.
The automobiles are evolving day by day to assume our safety and it is becoming more safety product in fact. For instance, fixing of air bags and wearing of seat belt are getting more popular as an passenger protection system. Also, in purpose of protect the pedestrian, vehicles structure, design and materials are being improved. Moreover, it is generally called "Eyes-Sight" or "Human –Safety "systems are being adopted as of now.
Nevertheless, Traffic Fatalities ZERO society will be not realistically, even if we have made every effort.
We, JASTI, are manufacturing and developing Anthropomorphic Test Dummy (ATD) as a Measuring Apparatus to calibrate and evaluate "Vehicle-Safety" since 1995.
Our products lineup is not only ATD for passenger safety, but also HeadForm Impactor for Pedestrian safety and calibration test equipments as well.
In order to contribute the development of a safety car, JASTI will strive for the development and manufacturing of the dummy for the world market.
When traffic accident in the world comes to ZERO, our mission will be over.
However, in order to our safety, JASTI keep and serve the manufacturing of the dummy as our mission until such a day comes.
For our safety, JASTI!


JASTI is an experienced Company, manufacturing dummy/dummy parts in a high quality,with a continuous evaluation and examination made in the technical center to reach a high demand from all our visitors and to make them to become our customers.
Our products not only are according to the regulation at the technical report of SAE,the quality of each part is guaranted by on the function,evaluation and testing in an actual dummy. Moreover the headform impactor for pedestrian protection is also manufactured and sold in Jasti in cooperation with Japan Automovile Research Institute,Inc (JARI).
The impactor (4.5kg for Adults and 3.5kg for children) was developed in our company and has received high evaluation in durability and its stable quality in the market around the world, Quality Policy has contribuited to the Society through traffic collision safety study.
Our strategy is to stablish and create the highest Quality Product for improving the safety,comfort and protection of people and their environment. Through our management systems we will provide to our customers the equipment,designs and services that meet and exceed their expectations.

Aim at ONLY 1 from No.1
Perform Cooperate Acitivity from Visitor`s Viewpoint
Raise Ability and Strive for Conitinuos Quality Improvement
Providing a safe work environment for all our employees and guests.
the cooperative efforts of all employees of Jasti
Improving processes and services through National and International Quality,environmental standards and Regulatory and legal requirements.
Recognizing dsciplinies of Quality,environmental management as part of management function.
Commiting of preservation of Natural Resources as an obligation to the society.

Operating promotion exceeding the visitor`s expectation Anthropomorphic Test Devices dummy manufacture target

Anthropomorphic Test Devices dummy as Measuring Instrument (Dummy individual specificity is reduced and it is Performance Level Management)
Repeatability (Dummy Durability, Reliability Maintenance)
Reproducibility Owner Dummy



The skin of dummy parts such as chest jacket, head skin or other mold parts are mainly used Polyvinyl Chloride (PVC) as core and primary material. However, due to reproduce the biofidelity of the dummy,JASTI has used DINA,DINP plasticizer, which is classified as non-cancer causing material, since 2009, even DOP had never been used. Nevertheless, these plasticizer still contains Phthalic Acid and JASTI use plasticizer "Phthalic Acid Free" material currently for PVC mold production.JASTI offers these skin parts with safety measures in mind for the customer.

Damping material of Rib components for Hybrid III 50th Male and 5th Female have been used so-called United Mcgill for a long time. However, due to the discontinuation of United Mcgill, JASTI developed new damping materials with low carbon composition, which are less affected of thermal conductivity. By using newly developed damping material, JASTI is able to issue the Rib high and low speed impact certification.

Anthropomorphic Test Device of Dummy is designed and manufactured to reproduce the human kinematic behavior caused by impact with a vehicle. Due to replicate the human behavior in an impact, dummy is made up of many kind of components and materials. Especially, rubber material is used widely for sensitively performed region of Neck, Lumber Spine, Nodding Block and Knee Flesh Insert. In these regions, it is demanded high biological replication, the rubber is adopted for these region utilizing its property of flexion and extension characteristics. However the rubber will deteriorate and change on the hardness by time variation, therefore it is assumed some tolerances originally in the drawings. JASTI manufactures the optional rubber parts with different hardness but still within the tolerance allowed and it makes it easier for the customers to set the dummy up and adjust for the calibration purpose.
JASTI offers these rubber parts with different hardness for Hip joint-femur flexion test [Lumber Spine], Neck certification [Nodding Block] and Femur impact response [Knee Flesh Insert].

The Lumbar Spine is a molded product based on rubber materials and an important component in the reduction of energy transmitted to the thorax. The performance of lumbar spines is requested not only surface hardness, but also repeatability and reproducibility through Torso Flexion test. JASTI conducts own unique evaluation test to secure lumbar spines reliability.


One pair of Nodding Block is assembled in Nodding Joint Assembly of Hybrid III 50M,5F and 95LM, which is made of rubber material and control the Neck flexion and extension performance with molded Neck combining. To applying different hardness of Nodding Blocks, JASTI makes it easy for the customers to adjust the neck performance within the corridor, but without replacing the Neck Molded, as JASTI has verified this performance and inclination throughout the development/manufacturing stage. Flexion and extension of Neck performance is adjustable by the combination of Nodding Block as it has the variation of hardness allowed 80 to 90 by Durometer Shore A in the drawing. JASTI supply the Neck molded assembly, which is certified with Nodding Block Shore A 85 as standard products. However, if it can not be met within the requested corridor during using, optional 5 pieces of different hardness Nodding Block Shore 80-82-85-87-90 are available and JASTI recommend to use/test these optional parts. Using these optional parts combining makes Neck certification much easier. Any information requires for the performance of nodding block hardness, please consult JASTI, we offer solution and recommendation.

Knee Flesh Insert is assembled between Knee flesh and Knee cap to absorb the impact force upon the knee and it is made of the rubber. During Knee impact calibration process, impact the Knee under defined condition of mass and acceleration by rigid pendulum, it is demanded the peak knee impact force of 4715-5782 N to assume the impact force to be transmitted to the femur. Replacing the parts of Knee Flesh Insert with different hardness within the tolerance of 40 to 50 Shore A by Durometer, impact force can be adjustable. JASTI offers 3 different type of Knee Flesh Insert Shore A 42(soft), 45(standard), 47(hard) and recommends to use different type of Knee Flesh Insert for your easy Knee Impact calibration process.


Trade Name
JASTI Co.,Ltd.
Location

Head Office
2-4-3 Miyoshi, Koto-ku,Tokyo
135-0022,Japan
TEL:+81-(0)3-5245-3661
FAX:+81-(0)3-5245-8596

Technical Center
669 Yanagisawa, Numazu,Shizuoka
410-0308,Japan
TEL:+81-(0)55-966-8620
FAX:+81-(0)55-966-8629

Plant

Capital
20,000,000 Yen
Executive

President

Yoshihiro Ozawa
Establishment
January, 1994
Fiscal Year End
The End of December
Main Bank
Mitsubishi UFJ Bank


Test laboratory
National Traffic Safety and Environmental Laboratory (NTSEL)
Japan Automobile Research Institute(JARI)
National Institute Occupational Safety and Health, Japan(JNIOSH)
Test laboratory in Abroad
ADAC
BASt
IDIADA
KATRI
MIRA
Millbrook
TNO
TRL
TUV
IDIADA
UTAC
NHTSA
IIHS
Car Manufacturer in Abroad
AUDl AG
BMW AG
Berdtrandt AG
Chrysler
Daimler AG
Ford Motor
GM Daewoo Auto & Technology Company
KIA Motors Co.
Adam Opel AG
Porsche AG
Volkswagen AG
Hyundai Motor Company
(*Alphabetical)
Car Manufacturer in Japan
Daihatsu Motor
Fuji Heavy Industries
Honda R&D
Honda Motor
Hino Motors
Isuzu Motors
Kawasaki Heavy Industries
Mazda Motor
Mitsubishi Motors
Nissan Motor
Toyota Motor
Suzuki
UD Truck
Yamaha Motor
Car Parts Manufacture in Japan
Ashimori Industry
Asahi Glass
Autoliv
Denso
Honda elesys
Imasen Electric Industial
Jonson Controls and Automotive Systems
Kanto Auto Works
Koito Industries
Nissan Shatai
Nihon plast
Shigeru
Shiroki Corporation
Takata
Tachi-S
TS Tech
Tokai Rika
Toyoda Gosei
Toyota Auto body
Toyota Boshoku
Yachiyo Industry


JAPAN
Toyota
Honda
Nissan
Daihatsu
Mitsubishi
Suzuki
Subaru Fuji
Mazda
Jari
Ozawa Science
O`well
Kawasaki Heavy Industries
Toyo-Sokki
Auto Assist
Shiroki
Keyence
Unico Japan
Ashimori
Imasen Electric Industrial
Japan Auto Parts Industries
Autoliv Japan
JSP Corporation
KyowaElectronics Instruments
TAKATA Japan
Nippon Light Metal
Koito Industries
Mebius Corporation
EUROPE
Kistler Instruments GmbH
BGS Bohme & Gehring GmbH
Porsche
pdb Biomechanics
Mercedes-Benz
Henkel GmbH
Britax Childcare GmbH
DAIMLER GmbH
ARIES Ingenieria y Sistemas Spain
Politecnica for Automobile Research Spain
MIRA Ltd
TGGS Lecturer/Research
ESI group France
NSW Centre for Road Safety
BIA TURNKEY TEST SYSTEMS France
IMAGE SYSTEMS MOTION ANALYSIS
Autoliv Sweden
SAFETEQ Netherlands
Tech – Bel Israel
SIEMENS
AMERICA
NHTSA (VRTC)
Duke University
Biokinetics & Associates, Ltd.
Ford Motor Company
RECARO Aircraft Seating GmbH
RECARO Aircraft Seating GmbH
Honda R&D Americas, Inc.
Tesla Motors
Seattle Safety
FAA Biodynamics Research
General Motors U.S.A.
Autoliv U.S.A.
University of Virginia
Tass Americas
Wayne State University U.S.A.
Key Safety Systems
Exponent
Takata U.S.A.
Britax Child Safety, Inc.
Chrysler Corporation
IIHS
Lear Corporation
Evenflo Company, Inc.
Calspan Corporation
Oregon Ballistics Lab, LLC
Medical College of Wisconin
University of Michigan Transportation Research
NASCAR R&D Center
Oregon Ballistics Lab, LLC
AmSafe, Inc.
Dorel Juvenile Group
IMMI-CAPE Division
Neaton Auto Products
The Ohio State University
TGRTC
TRC, Inc
Graco
GM Mexico
TGR Technical Center
Euro America Mexico
ASIA
Kistler China
H & D International Company China
Niell Tech China
Autoliv China
ARRI ASIA Ltd Hong Kong
Tsinghua University
Mercedes-Benz China
China Aotmotive Technology & Research Center
NS Net Shape China
National Automotive Quality Supervision Test Center
China Faw Volswagen Automotive
SAIC Motor China
Shanghai Volkswagen
Korea Transportation Safety Authority
General Motors Korea
Hyundai Motor Group Korea
Renailt Samsung Motors Korea
A & G Technology Korea
Ssangyong Motor Company Korea
Miros Malaysia
Autoliv Hirotako Malaysia
HC Tracking Services SDN.BHD Malaysia
Quantarad Technologies Sdn Bhd Malaysia
KMUTNB Thailand
GM Thailand
Kistler Instrument Thailand
RWTHAACHEN University Thailand
GSK Corporation Taiwan
Automotive Test Systems India
ARAI India
Tesscorn India
Tata Motors India
TAKATA India
Autoliv India
Panatechasia India
Maruti Suzuki India
BEP Automotive Systems India
Mahindra 2 Wheelers
NATRIP India
JP Research India
Indian Institute of Technology Delhi
Griffith University Australia
APV-T TECH CENTRE Australia
Curtin University Australia
ST Kinetics Singapore