■ Frontal Impact Barrier
ODB Frontal Impact Barrier (FODB)
Offset Deformable Barrier EEVC-WG11
AXAC製ODBは前面衝突用オフセットバリアーで、UN-ECE-R94-European directive 96/79/ECの基準により製造され、各国の認証基準を満たしております。また、各国のNCAPでの評価基準バリアーとして使用されております。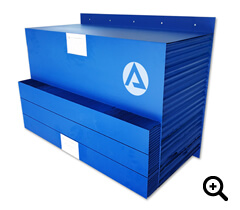 Europe-UN-R94 & ECE 96/79/EC
China-GB20913-2007
USA-FMVSS 208
Japan-TRIAS 47-5
India-AIS-098/F
Australia-ADR 73/00
仕様:
| | | |
| --- | --- | --- |
| Main Honeycomb Block | Aluminum 3003 | 650 × 1000 × 450 mm |
| Bumper Element Block | Aluminum 3003 | 330 × 1000 × 90 mm |
| Backing Sheet | Aluminum 5251/5052 | H 800 × W 1000 mm, T 2.0 mm |
| Cladding Sheet | Aluminum 5251/5052 | H 1700 × W 1000 mm, T 0.81 m |
| Bumper-Facing Sheet | Aluminum 5251/5052 | H 330 × W 1000 mm, T 0.81mm |
■ Frontal Impact Barrier
M-PDB Mobile Progressive Deformable Barrier
Euro NCAP – M-PDB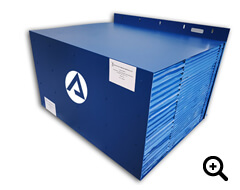 AXACはEURO-NCAPにより2018年10月に発行されたTB022に基づきM-PDBを製造しました。この前面衝突プロトコールは2020年1月より正式にEURO-NCAPの評価基準として採用されます。
目的は、現実の自動車事故のケースにより即した衝突実験で、車両と台車に積載されたバリアー(M-PDB)の双方が50kms/hの移動スピード状態で前面オフセット衝突による乗員の安全性を評価するもので、Thor 50他が新たなダミーとして積載されます。
仕様:
特殊化学処理されたハニカムを3層構造に組み合わせた新しい構造のバリアーで、各ブロックA,B,CのDサイズが合計790 mmと貫入域が大きく取られております。
| Honeycomb | Material | Cell size | Dimension H × W × D |
| --- | --- | --- | --- |
| Block A | Aluminum 3003 | 6.35 mm | 568 × 1000 × 90 mm |
| Block B | Aluminum 3003 | 9.50 mm | 568 × 1000 × 450 mm |
| Block C | Aluminum 3003 | 19.10 mm | 568 × 1000 × 250 mm |
| All dimensions | | | H570 × W1000 × D790mm |
■ Side Impact Barrier
MDB-R95 Side Impact Barrier (Advanced 2000)
Movable Deformable Barrier Adv.2000-EEVC WG13
AXAC製MDB-R95は側面衝突用バリアーでEEVC WG13のリコメンドに従いEEVC-R95の基準により製造され、各国の認証基準を満たしております。また各国のNCAPでの評価基準バリアーとして使用されております。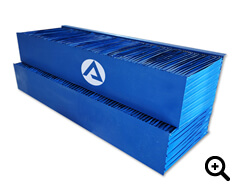 Europe-UN-R95 am3 & 96/27/EC
China-GB20913-2007
USA-FMVSS 214
Japan-TRIAS 47-3-2000
India-AIS-099/F
Australia-ADR 72/00
仕様:
Adv.2000は6個のブロックより構成されており上段に3個、下段に3個のブロックにより全体が構成されています。
| | | |
| --- | --- | --- |
| Upper Block size | Alloy 3003 aluminum | W 500 × L 250 × D 440 mm |
| Lower Block size | Alloy 5052 aluminum | W 500 × L 250 × D 500 mm |
| Dimensions (each Block) | Composite Alloy | W 1500 × H 250 +/−2mm × D |
| Cell size | 19mm +/−10% | Upper & lower Honeycomb |
■ Side Impact Barrier
Euro NCAP-AE-MDB
AXACはEuro NCAP 2013年4月にV1.0 TB-014に基づきAE-MDB (Advanced European Mobile Progressive Deformable Barrier) は製造されています。
世界中の自動車会社、試験機関に側面衝突乗員保護安全性試験としてEuro NCAP(欧州新車アセスメントプログラム)に基づき使用されております。
AXACはEURO-NCAPにより2013年4月に発行されたTB-014に基づきAE-MDB Ver.1.0を製造しました。この側面衝突プロトコル正式にEURO-NCAPの評価基準として採用されます。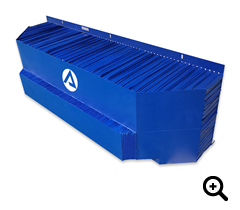 目的は、現実の自動車事故のケースにより即した衝突実験で、車両に台車に積載されたバリアー(AE-MDB)が側面衝突による乗員の安全性を評価するもので、乗員側安全性評価には1300㎏台車を使用し、助手席側乗員安全性評価には1400㎏台車を使用して実験される。WorldSID50が新たなダミーとして積載されます。
仕様:
特殊化学処理された6個の独立したハニカムブロックで構成されている。その下部には60㎜の厚みのブロックが取り付けられている。各ブロックA,B,CのDサイズが合計790mmと貫入域が大きく取られております。
| Honeycomb | Material | Cell size | Dimension H × W × D |
| --- | --- | --- | --- |
| Block A,C,D,F | Aluminum 3003 | 19.10 mm | 600 × 250 mm |
| Block B,E | Aluminum 3003 | 19.10 mm | 500 × 250 mm |
| Bumper | Aluminum 3003 | 6.35 mm | 1220 × 200 mm |
| All dimensions | | | H440 × W1700 × D560 mm |
■ Side Impact Barrier
NHTSA FMVSS-214 Side Impact Barrier
Movable Deformable Barrier FMVSS214 & FMVSS 301
AXAC製FMVSS-214は側面及び後方衝突用バリアーでNHTSA-TP214-D & NHTSA 49CFR571.214の基準により製造され、認証基準を満たしております。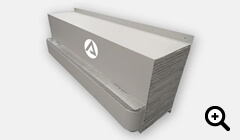 NHTSA TP214-D
NHTSA 49CFR571.214
仕様:
Dimension
| | |
| --- | --- |
| Width | 1676 +/−6 mm |
| Height | 559 +/−6 mm |
| Depth at Bumper Height | 483 +/−6 mm |
| Depth at Upper impact face | 381 +/−6 mm |
| Backing sheet | Aluminum 5052 H4 |
| Bumper facing sheet | Aluminum 2024 T3 |
| Cladding sheet | Aluminum 5052 H4 |
■ Aluminum Honeycomb
ATD Aluminum Honeycomb Energy Absorber - Neck Certification
Product Description
ATD's or crash test dummies are used worldwide for the evaluation of automotive safety restraint systems in crash testing. The dummies are regulated test devices per the Hybrid Ill in the USA Code of Federal Regulations (Part 572, Subpart E) and also per the European ECE Regulations. Considered to have excellent bio fidelity and instrumentation capability, the ATD or crash test dummy can also be used in many non-automotive applications such as wheelchairs, medical and sport equipment.
To ensure certified performance, ATD's certification requires neck extension/flexion tests. Aluminum Honeycomb energy absorbers are used to create the pulse for neck flexion extension tests.
Technical Description
Individual energy absorber Aluminum honeycomb:
Alloy 3003 series
Perforated material
Rc 0.30 Mpa +/-10%
Density 28.8 kg/m3
Standard Dimension:
W 1250 × L 1250 mm Two Thicknesses as requested for testing:
T1 = 152.4 mm (6 Inches)
T2 = 76.2 mm (3 Inches)
Cell size is 19 mm (3/4 Inch)
The ATD energy absorbers are supplied as slices, strips or pre-cut dimension according to customer needs. Materials also available upon request with under expanded cell size to approximately 11/16" in order to better fit 4-Pin supports.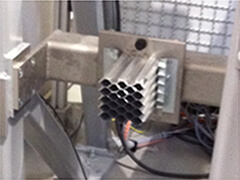 Energy Absorber
5x5 Cells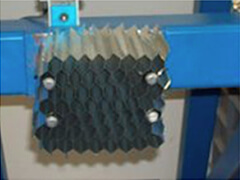 Energy Absorber
4 Pin Support
■ Aluminum Honeycomb
FLEX-PLI Aluminum Honeycomb Energy Absorber - Dynamic Inverse Test
Product Description
The pedestrian lower leg form impactor is used to evaluate pedestrian protection afforded by passenger cars in case of vehicle collision with a pedestrian. The Japan Automobile Manufacturers Association, Inc. (JAMA) and the Japan Automobile Research Institute (JARI) initiated development of the "Flexible Pedestrian Leg form Impactor (Flex-PLI)" as a completely new leg form. Flex-PLI is part of the draft Global Technical Regulation (GTR).
Since February 2014, the Pedestrian Protection Safety Assessment by Euro NCAP has been executed using the Flexible Pedestrian Legform Impactor (FLEX-PLI). Certification of the FLEX-PLI-GTR requires nine different procedures to ensure certified performance of all components. Additionally, after 30 car tests or before homologation testing, a dynamic inverse test must be carried out using an aluminum honeycomb energy absorber.
Technical Description
Individual energy absorber Aluminum honeycomb:
Alloy 5052 Series
Cell size 3/16 Inch
Density 2.0 pcf
Equivalent 75 Psi ±10%
Standard Dimension (as requested for testing):
W 200 mm +/- 5 mm
L 160 mm +/- 5 mm
T 60 mm +/- 2 mm
Included 10 mm pre-crushed
The leg is struck with an 8.1 kg linear guided impactor with a honeycomb face fired at 11.1 m/s (40 KPH). The "FLEX-PLI" energy absorbers are supplied as pre-cut blocks according to the testing requirements.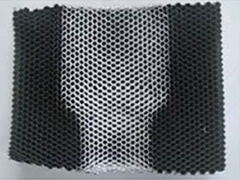 Energy Absorber
Post Impact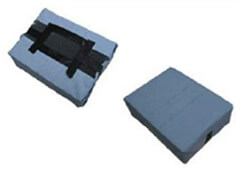 Energy Absorber
Before Impact